Depression is a difficult state of mind to deal with, and can often make you not want to be around people and lose interest in every day activities. This in turn leads to a cycle which often results in lower energy, more (or less) sleep, and even a worse appetite. It can be hard to imagine that there are others just like you that are out there, but it is indeed a fact. You don't have to, and really shouldn't suffer alone. That being said, when you're under the mercy of depression, one of the hardest things to do is to take that first step and reach out to others for guidance.
The good news is that you've already taken the first step by visiting this website. You have already recognised and admitted that you are going through a hard time and that you need help – give yourself credit for that. You can find all the information and tools you need to beat depression today on this site. If you're feeling particularly down at this moment, these inspirational poems can help get you back on your feet and give you that extra push you need in order to break free of depression and live the life you really deserve. If these poems put a smile on your face or cause you to think positively for just a moment or two, then that in itself is already a step forward.
Thinkstock
If you have any poems or inspirational words about depression, anxiety or stress which you like and would like to share with the rest of the world, contact me and I'll feature some of my favourite ones here or in my newsletter!
"Invictus"
Out of the night that covers me,
Black as the pit from pole to pole,
I thank whatever gods may be
For my unconquerable soul.
In the fell clutch of circumstance
I have not winced nor cried aloud.
Under the bludgeonings of chance
My head is bloody, but unbowed.
Beyond this place of wrath and tears
Looms but the Horror of the shade,
And yet the menace of the years
Finds and shall find me unafraid.
It matters not how strait the gate,
How charged with punishments the scroll,
I am the master of my fate,
I am the captain of my soul.
Author: William Ernest Henley
"After the Rain"
Whatever your cross, whatever your pain
There will always be sunshine after the rain
Perhaps you may stumble, perhaps even fall
But God's always ready to answer your call
He knows every heartache, sees every tear
A word from His lips can calm every fear
Your sorrows may linger throughout the night
But suddenly vanish at dawn's early light
The Savior is waiting somewhere above
To give you His grace and send you His love
Whatever your cross, whatever your pain
God always sends rainbows after the rain
Author Unknown
Read more – how the Bible can help with depression
"Don't Quit"
When things go wrong, as they sometimes will,
When the road your trudging seems all uphill,
When the funds are low and the debts are high,
And you want to smile, but you have to sigh
When care is pressing you down a bit,
Rest if you must, but don't you quit.
Life is queer with its twists and its turns,
As everyone of us sometimes learns,
And many a failure turns about,
When they might have won, had they stuck it out.
Don't give up though the pace seems slow,
You may succeed with another blow.
Often the struggler has given up,
When he might have captured the victors cup;
And he learned too late when the night came down,
How close he was to the golden crown.
Success is failure turned inside out,
The silver tint of the clouds of doubt,
And you never can tell how close you are,
It may be near when it seems so far;
So stick to the fight when your hardest hit,
It's when things seem worst that you mustn't quit!
Author Unknown
If you're looking for further inspiration, I highly recommend you read this article and Learn How to Believe In Yourself and Beat Depression. I hope these inspirational words can guide you to serenity on the path to beating depression – click here for more poems.




Ready to Take the Next Step and Destroy Depression?
I highly recommend you check out the best-selling Natural Depression Treatment Program by Uncommon Knowledge – FREE introduction & first module and 90-day money back guarantee, no questions asked.
I have tried this program out myself and promise you this is one of the best courses out there when it comes to depression help programs, with an excellent blend of cognitive therapy, behavioural therapy, interpersonal therapy and hypnosis alongside the excellent 199 page e-book to reinforce what you learn as you go along – find out more about the course!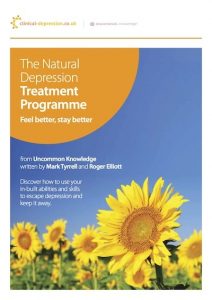 Another vital part of recovery from your depression or indeed from preventing it in the first place is to work on your self esteem. This is simply, as I'm sure you realise, something you must do. How?
I give you 12 Steps to Success in my e-book "Self Esteem Secrets", which includes super simple methods to skyrocket your self-esteem and change your entire outlook on yourself and the world around you which will in turn allow you to reach your full potential. This can be vital in helping you recover and prevent depression in the future! I highly suggest you go check it out now.
I also suggest you check out these excellent Depression Videos for more help and inspiration! .
Now, here are some more words of inspiration to help you with your depression, anxiety and stress and to brighten your day!
"O Me! O Life!"
Oh me! Oh life! of the questions of these recurring,
Of the endless trains of the faithless, of cities fill'd with the foolish,
Of myself forever reproaching myself, (for who more foolish than I, and who more faithless?)
Of eyes that vainly crave the light, of the objects mean, of the struggle ever renew'd,
Of the poor results of all, of the plodding and sordid crowds I see around me,
Of the empty and useless years of the rest, with the rest me intertwined,
The question, O me! so sad, recurring—What good amid these, O me, O life?
  Answer.
That you are here—that life exists and identity,
That the powerful play goes on, and you may contribute a verse.
Author: Walt Whitman
"The Rainy Day"
The day is cold, and dark, and dreary;
It rains, and the wind is never weary;
The vine still clings to the mouldering wall,
But at every gust the dead leaves fall,
And the day is dark and dreary.My life is cold, and dark, and dreary;
It rains, and the wind is never weary;
My thoughts still cling to the mouldering Past,
But the hopes of youth fall thick in the blast,
And the days are dark and dreary.
Be still, sad heart! and cease repining;
Behind the clouds is the sun still shining;
Thy fate is the common fate of all,
Into each life some rain must fall,
Some days must be dark and dreary.
Author: Henry Wadsworth Longfellow
"Untitled"
There is freedom waiting for you,
On the breezes of the sky,
And you ask "What if I fall?"
Oh but my darling,
What if you fly?
Author: Eric Hanson