It can be very confusing to understand if symptoms are warnings of depression because many of these symptoms happen to everybody for short periods of time. So the important thing to understand, if you are wondering if you or someone you know is depressed, is the length of time and the severity of both mental and physical symptoms.
Depression symptoms can vary in severity greatly, and according to the type of depression, but the most basic symptoms are as below, with the left hand side representing mild depression and the right more severe cases:
Feeling sad →  feeling extremely unhappy
Lack of motivation → total apathy
Feeling lonely → feeling isolated
Lack of self confidence → plagued by self doubt
Low self esteem → total lack of self respect and feeling worthless
Distracted → total lack of concentration
Finding daily events difficult → being unable to cope
Procrastination → avoiding life and becoming withdrawn
Difficulty sleeping → inability to sleep normally
Physical depression symptoms which you may suffer from include:
Over-eating
Over-drinking
Lack of interest in sex
Poor concentration
Violent or aggressive behavior in men
Not interested in your appearance or hygiene
Mood swings
Anger
Understand the Symptoms
It is very important to understand the most common symptoms so that you will be able to recognise if you or a friend is suffering and also to realise how severe the depression is. Go take this test now and discover how depressed you are or ask a friend to take it. The most important step is the acceptance of depression as we will often deny it even to ourselves. Taking this test may be all that is needed to admit there is a problem which needs to be treated. The next step is seeking help.
These are the main depression symptoms to look out for, and not surprisingly, if you have a combination of a few of the above, real social and mental problems can build up within you to such a level that treatment is vital. If your depression is not severe then self help is possible. Either way get advice and don't be afraid to try some of the self help treatments available as I describe in this website.
Differences Between Men and Women
There are some significant differences in men and women in relation to depression. Firstly, women are much more likely to suffer from this problem than men. Most doctors believe there are biological reasons for this such as hormones and differences in the way the female brain develops before birth. Women appear to be more emotional and this may cause them to dwell on negative aspects of life or emotional memories more than men.
On the other hand, men often use alcohol or drugs when they get depressed. They also try to cover up their desperate feelings with aggressive or extreme behaviour such as gambling and taking risks. It is often easier to diagnose a woman as being depressed because the symptoms are more obvious and women seem to show emotions more openly. Also, women often eat more when upset or depressed so eating disorders are more common. Suicide is more common in men as they hide their problem and are less likely to seek help. Unfortunately many men see something like depression as a weakness that they should be able to overcome, whereas women are much more accepting of their need to seek help and support. This is the main reason why getting help is so important for both men and women. Without help, a depressed person may begin to feel desperate and hopeless and the longer this continues, the more likely the disorder is going to become. If someone continues to suffer alone, as men in particular often do, it can become quite dangerous and can even end in suicide. So, anyone who believes they may be depressed should seek advice of a doctor as a first step.
The Uncommon Knowledge Depression Program is a unique resource to help you through depression. It guides you not just to lift your depression but to beat depression for good and learn how to live the rest of your life depression-free! As a limited time offer, you get the introduction and first module FREE and to top that, you have a 90 day money back guarantee if not completely satisfied with the program but as I've just completed it myself I know you will be! Click here to read more about the Depression Program!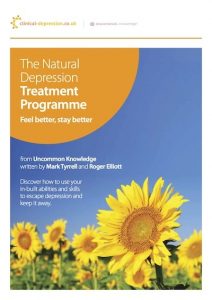 What To Do If You Are Depressed
If you think you have several symptoms and they are at moderate levels you must see a doctor and get help. The tools and courses I feature on this website will help you heal yourself and this is vital also but please remember that if you are severely depressed, you need help before you get too far down the path of no return. Trying to face this problem is just too difficult on your own!
Counseling could be very helpful to you. There are many highly qualified professionals waiting to help you with advice – do you you feel you would benefit from talking to someone about your problems? Are you serious about getting control of your feelings again? Seeking help is important. It may be necessary depending on the severity of the depression.




The worst symptom of depression is wanting to commit suicide. There is nothing sadder than the throwing away of one person's life. Depression causes most suicides so guard yourself against this and know that you can defeat it! There is always hope but at times it can be difficult to see but just because you can't see something doesn't mean its not there. Please think about getting professional help from a doctor or therapist if you problem is affecting your daily life. Did you know that some studies have suggested that one in ten people who are severely depressed but do not seek help attempt suicide! That is frightening, so please get help and you will overcome it.
Helping Another
One of the most difficult situations to face is dealing with a friend or family member who has depression. It can be extremely difficult to reach out and help another person when they are suffering from this problem. If you find yourself in this position and want to help another person deal with this then read this helpful article: What to do if a loved one is suicidal. It might just save someone's life.
The help and support you need is here! Please take a look around this website and my More Self Esteem website which deals with a very important and related topic – improving your self esteem and self confidence.
Highly Recommended!
Check out my best-selling e-book, Self Esteem Secrets: 12 Steps to Success – this will be a vital tool in helping you defeat depression and make sure you never go back!
I also recommend these books to you if you want more information:
#1 Happiness is a choice: causes and cures for depression
A widely acclaimed natural cure without drugs to combat symptoms such as social dysfunction, hopelessness, eating or sleeping problems, and loss of interest and many others.
#3 A look at the causes, symptoms and treatment of Depression

Please don't hesitate to contact me if you need further guidance – I'm here to help.
Remember: there are many things you can do to help yourself if your depression is not serious and probably the most effective is exercise which releases positive chemicals in your brain and makes you feel better. Of course, it is sometimes difficult or impossible to motivate yourself when you have a more serious problem which affects your daily life so please see a doctor and ask for help if your problem is severe.
Read More
Detecting depression from WebMD